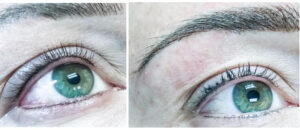 Eyelash Enhancement/Eyeliner
$450 Package Includes 2 Appointments, 8 weeks apart
$50 non-refundable booking fee due at time of scheduling
$400 due in full at first appointment
Complimentary touch up must be completed 8-12* weeks after initial appointment
*If your complimentary touch up is not completed within 12 weeks, you will be assessed a $50 fee for each additional week.
---
Eyeliner Color Boost
$275 per session
It is recommended for clients to do a "color boost" for their 3D eyebrows every 1-2 years.
$50 non-refundable booking fee due at time of scheduling
$225 due in full at first appointment
Note: Eyeliner color boosts are meant for those who have had their eyeliner done in the past
and simply need the color freshened up only. If you have never had your eyeliner done, or, if
you've had it done and it is heavily faded, it may be recommended that you start over and pay in
full for 2 sessions that are 8 weeks apart for the best results.
---
The day of your appointment:
No contacts. You must wear eyeglasses the day of your appointment and for 3 days after.
No makeup. You must come in with clean face.
No sty. If you have a sty you will need to wait until it is fully healed.
No sunburn on your face.